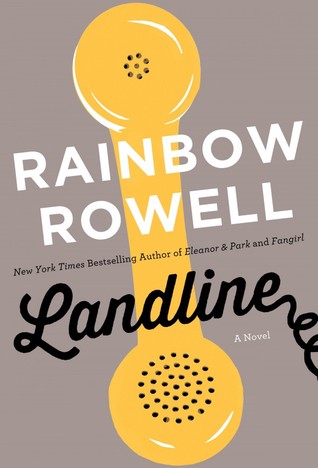 As a self-proclaimed Rainbow Rowell fangirl (see what I did there?), I pretty much counted down the days until I could get my hands on Landline
.
Description from the publisher:
Georgie McCool knows her marriage is in trouble. That it's been in trouble for a long time. She still loves her husband, Neal, and Neal still loves her, deeply — but that almost seems besides the point now.

Maybe that was always besides the point.

Two days before they're supposed to visit Neal's family in Omaha for Christmas, Georgie tells Neal that she can't go. She's a TV writer, and something's come up on her show; she has to stay in Los Angeles. She knows that Neal will be upset with her — Neal is always a little upset with Georgie — but she doesn't expect to him to pack up the kids and go home without her.

When her husband and the kids leave for the airport, Georgie wonders if she's finally done it. If she's ruined everything.

That night, Georgie discovers a way to communicate with Neal in the past. It's not time travel, not exactly, but she feels like she's been given an opportunity to fix her marriage before it starts . . .

Is that what she's supposed to do?

Or would Georgie and Neal be better off if their marriage never happened
I really, really love the writing of Rainbow Rowell. Really love it.  I enjoyed Attachments and fell head over heels for Eleanor & Park and Fangirl, (seriously, spoiler alert: if I like you even a little, you're getting both books for Christmas this year) (you're welcome!) So my expectations were sky-high for Landline. 
I'll say right off the bat, I didn't love it as much as E&P or Fangirl. But honestly, I don't think I've ever loved another book as much as I loved those two (and I've read and loved a lot of books.) It's still Rainbow Rowell, and therefore still an immensely enjoyable read with near-perfect dialogue and inspires all the feels.
My review will contain a few spoilers, so I'm going to advise that you read the book before you proceed with the rest of this post. And If you haven't read any of her books, (I mean honestly, what are you even doing with your life?) I recommend reading Attachments, then Landline, then Eleanor & Park and finally, Fangirl. I'm sure many would argue that Eleanor & Park is her best (and being made into a movie with the screenplay by Rowell herself!), but frankly, you're going to need a little pick me up after you finish it.
So! Onto my spoiler-ish review of Landline…
What I liked: I liked Georgie. I love that many of Rowell's main characters are female writers who are admired and respected for their writing talent. I related to Georgie in some ways, but also just kind of felt for her. She seemed so hopeless. And at times it was with humorous results (the scene where she wears her mom's velour pants with a sequined top and her coworkers compare her to Federline-era Britney had me rolling), but for the most part, I just kind of wanted to shake her and tell her to get it together.
I liked Seth. I liked her mother and sister and the interactions they all had. And I sometimes liked Neil. Well, I liked 1998 Neil. I liked the magical realism of the story and found myself wondering what i would say to my husband in 2004 if I had my own magical landline.
What I didn't like: I kept trying to put my finger on what I felt was missing from the story. While there was some action and interaction between characters, so much of it took place in Georgie's head and it can be difficult to get a firm grasp on the problems in a marriage without seeing the reasons behind them in action. I wanted to understand why Neil was so angry with Georgie when throughout the story I thought he was acting like a selfish dick. i wanted more of a backstory other than showcasing two people who were maybe always heading in different directions and possibly never should have been together in the first place. We hear Georgie say again and again that she loves Neil, but I was never really clear on why. I actually spent most of the book agreeing with Seth when he referred to Neil as an angry hobbit.
I wanted to like Neil. I wanted to understand where he was coming from and kept waiting for an aha! moment that would explain whatever grave offense Georgie leveled against him to warrant his passive aggressive treatment of her. But all we got was that Georgie was a TV writer when they met and a more successful TV writer after they were married and from the beginning made it clear that she needed to live in California, and Neil wanted to be doing something else, somewhere else, but didn't know what. I can sympathize with listlessness, but I can't sympathize with punishing someone else for the way you feel about your life. Neil seemed like he would benefit greatly from the ubituitous Holstee poster:
I don't enjoy people in real life or characters in books who spend their time angry with their little corner of the world and unhappy with their life, but are unwilling to make any changes. There was no reason for Georgie to feel so upset and guilty over an opportunity she had been waiting for for twenty years to finally come to fruition. So upset that it was potentially squandered. Maybe Rowell thought that the reader would be uninterested in what happened with Georgie's show, but i really wanted to know. I wanted her to (pardon the trendiness of this statement) have it all. And if she didn't, I wanted her to be angry about it.
I feel like I'm making it seem like I didn't enjoy the book, and that honeslty couldn't be further from the truth. It made me laugh and I dreaded it's inevitable end, as I do with all Rainbow Rowell books. Her stories tend to make me think harder than I expect to because all I ever remember about her books is how much they make me swoon all over the place. Even when they make me cry or set off alarms in my mind like this one did, I still want to recommend them to everyone I know and plan to read them again.