Everything I Never Told You by Celeste Ng | "Lydia is dead. But they don't know this yet." So begins this exquisite novel about a Chinese American family living in 1970s small-town Ohio. Lydia is the favorite child of Marilyn and James Lee, and her parents are determined that she will fulfill the dreams they were unable to pursue. But when Lydia's body is found in the local lake, the delicate balancing act that has been keeping the Lee family together is destroyed, tumbling them into chaos. A profoundly moving story of family, secrets, and longing, Everything I Never Told You is both a gripping page-turner and a sensitive family portrait, uncovering the ways in which mothers and daughters, fathers and sons, and husbands and wives struggle, all their lives, to understand one another.

This book snuck up on me and I didn't realize how affected I was until it was nearly over. Each member of Lee family became my favorite as they took turns sharing their perspective. Again and again, around and around, I found myself sympathizing and understanding and wishing they were better at communicating with each other. Honestly, this book really broke my heart, so if you decide to read it, I'd advise you to grab some tissues beforehand.
---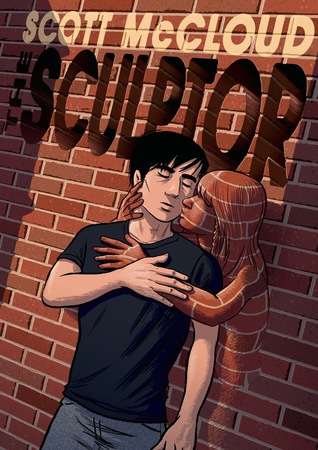 The Sculptor by Scott McCloud |  David Smith is giving his life for his art—literally. Thanks to a deal with Death, the young sculptor gets his childhood wish: to sculpt anything he can imagine with his bare hands. But now that he only has 200 days to live, deciding  what  to create is harder than he thought, and discovering the love of his life at the 11th hour isn't making it any easier. 
I haven't read many graphic novels. Actually, this is one of only a handful that I have read total, and one of only two I read last year (the other being Saga.) I was moved by The Sculptor more than most of the stories I've read recently, and anything that moves me will likely leave me recommending them to anyone within earshot.
The Sculptor is about a guy who is struggling to become someone great. He wants to make great work, and he wants to be recognized as Someone Who Makes Great Work. Many people will tell you that creative work should be done for its own sake, and while I definitely agree, I can also admit that sometimes I only wish that were the whole truth. For many, respect and earning a living and achieving celebrity are also important aspects of creative ambitions. This book gave me a lot to think about in that regard.  But, as per usual, I'm also a sucker for a love story, and the love-tinged, tragic plot line is what drew me to this story in the first place. Boy has dream. Boy makes deal with death to achieve dream. Boy meets girl. Boy regrets said deal instantly. Hijinks ensue. I really loved this book.
---
The Girl With All the Gifts by M.R. Carey | Melanie is a very special girl. Dr. Caldwell calls her "our little genius." Every morning, Melanie waits in her cell to be collected for class. When they come for her, Sergeant Parks keeps his gun pointing at her while two of his people strap her into the wheelchair. She thinks they don't like her. She jokes that she won't bite, but they don't laugh. Melanie loves school. She loves learning about spelling and sums and the world outside the classroom and the children's cells. She tells her favorite teacher all the things she'll do when she grows up. Melanie doesn't know why this makes Miss Justineau look sad.
The less you know about this book, the better, so I won't say much except that I absolutely devoured it.
---
All My Puny Sorrows by Miriam Toews | Elf and Yoli are sisters. While on the surface Elfrieda's is an enviable life (she's a world-renowned pianist, glamorous, wealthy, and happily married) and Yolandi's a mess (she's divorced and broke, with two teenagers growing up too quickly), they are fiercely close—raised in a Mennonite household and sharing the hardship of Elf's desire to end her own life. After Elf's latest attempt, Yoli must quickly determine how to keep her family from falling apart, how to keep her own heart from breaking, and what it means to love someone who wants to die.
This is my favorite book that I read in 2015. If you've ever grieved someone who has taken their own life, I implore you to read this beautiful story.
---
What books have you loved lately?