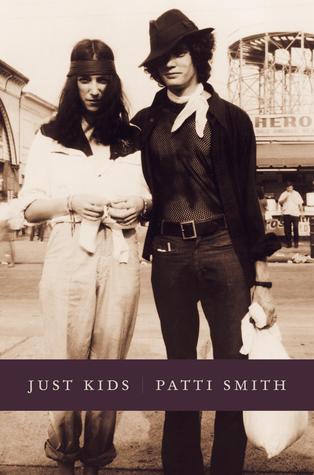 From the publisher: Patti Smith and Robert Mapplethorpe weren't always famous, but they always thought they would be. They found each other, adrift but determined, on the streets of New York City in the late '60s and made a pact to keep each other afloat until they found their voices–or the world was ready to hear them. Lovers first and then friends as Mapplethorpe discovered he was gay, they divided their dimes between art supplies and Coney Island hot dogs. Mapplethorpe was quicker to find his metier, with a Polaroid and then a Hasselblad, but Smith was the first to fame, transformed, to her friend's delight, from a poet into a rock star.
Just Kids is a love story, though not the traditional kind.
It's an ode to transformative love between two people and their shared interest in art and creating, and how this love permanently bonds them to one another. It's a tribute to the kind of friendship that transcends time and inspires self-confidence.
The book's title was inspired by a conversation Smith overheard when she and Mapplethorpe made it a point to dress eccentrically on a visit to Coney Island.  An elderly couple took note of their attire, and one of them asked aloud "are those people artists?" His wife responded, "I think they're just kids." It was a question they were trying to answer themselves, surrounded as they were by creators, writers and musicians, many of whom proceeded confidently in the artistic direction of their choosing.
I grew up with Smith's music in the background because my mom is an enormous fan, but didn't know much about her or Mapplethorpe prior to reading the book. I just kept hearing how wonderful it is, and how if you consider yourself to be creative, it's a must-read. I finally picked it up and couldn't put it down. I'm actually find it hard to put how I feel about this book into words. It moved me so much. Suffice to say, Just Kids has easily become one of my favorite books I've ever read and I recommend it wholeheartedly to any creative soul.