I read a BookRiot article yesterday on having too many things to read and how it can feel problematic, and even stressful. "The problems isn't that I haven't had time to read or that I've let myself get wrapped up in other hobbies, work, distractions, etc. The issue is that I have so many quality choices and so much access to books that I'm paralyzed, unable to zero in on one (or even two or three) to pursue with everything I've got."
I understand that so well.
I've written before about how I choose what to read next, and how sometimes it can be difficult to forcibly extract yourself from a story that you really connected to. BookTuber Christine did a pretty hilarious and spot on video of that very feeling:
And while a mourning period can stop your reading momentum in its tracks, having so many great options can also leave you a little frustrated and paralyzed with indecision.
Who knew the act of reading could be so complicated?
I have what I frequently refer to as a "lifelong TBR" collection when someone asks "why do you have so many books??" There are books that I have owned for years and will continue to own and will not read this year or next year or maybe not even the one after that. And that's fine.
But lately I've been feeling a little stressed by library books. To borrow from Blow, my ambition far exceeds my talent. Again and again. And again.
I have 18 books checked out right now. And while I know it's unlikely that I will read all of them, here is a compilation of the books I'm most excited to read.
---
If Elizabeth Bennet had the washing of her own petticoats, Sarah often thought, she'd most likely be a sight more careful with them.
When I read the description of this book, I had a hard time believing that I'd never heard of it before. I'm guilty of having read fan novels extending and retelling Pride and Prejudice. Longbourn
 has been described as P&P meets Downton Abbey, as it's the story of P&P told from the servants perspective. It has mixed reviews, but I'm excited to see if I like it.
---
It seems you either love or hate Emily Gould. I've read her blog and internet writing, knew that she was an editor for Gawker, and that she's from Silver Spring, Maryland, which is in my neck of the woods. I was curious about her, and even more so when I read her account of writing a novel. So when I saw this book at Barnes and Noble, I decided that I didn't want to buy it but I did want to read it and it sat on my library holds list for the last six months.
Described by the publisher as "a novel about two friends learning the difference between getting older and growing up," I figure if anything, Friendship
 should offer something to relate to.
---
Since I'm always a sucker for a love story, always a sucker for a story that takes place in Paris, and always a sucker for historical fiction about writers or artists whose work I admire, I Always Loved You
 seems like it will be right up my alley.
The young Mary Cassatt never thought moving to Paris after the Civil War to be an artist was going to be easy, but when, after a decade of work, her submission to the Paris Salon is rejected, Mary's fierce determination wavers. Her father is begging her to return to Philadelphia to find a husband before it is too late, her sister Lydia is falling mysteriously ill, and worse, Mary is beginning to doubt herself. Then one evening a friend introduces her to Edgar Degas and her life changes forever. Years later she will learn that he had begged for the introduction, but in that moment their meeting seems a miracle. So begins the defining period of her life and the most tempestuous of relationships.
---

I saw Colorless Tsukuru Tazaki and His Years of Pilgrimage
on the new releases shelf, and did a double take, sure that it was mistakenly placed there, as it's a fairly new and popular release, and surely must have holds stretching for months.
And then I more or less did the Grinch grin and added it to the stack I was holding.
Tsukuru Tazaki had four best friends at school. One day Tsukuru Tazaki's friends announced that they didn't want to see him, or talk to him, ever again. Since that day Tsukuru has been floating through life, unable to form intimate connections with anyone. But then he meets Sara, who tells him that the time has come to find out what happened all those years ago.
I loved Norwegian Wood and The Wind Up Bird Chronicles, and am slowly making my way through all of Murakami's novels. I'm so excited to read this one.
---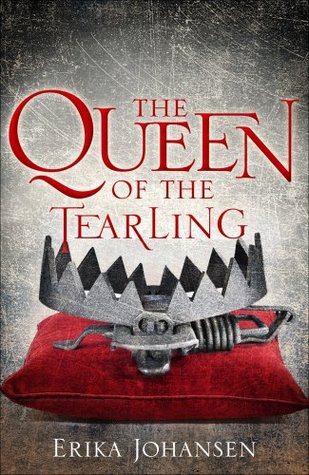 My interest was piqued when I read reviews comparing The Queen of the Tearling
 to The Hunger Games (strong female character, dystopian world) and Game of Thrones (medieval setting). But then I read reviews that say that's not an apt comparison, and actually does the novel a disservice because those who read it because of that comparison wind up not liking it.
In the end, I was sold on this description: Combining thrilling adventure and action, dark magic, mystery and romance, The Queen of the Tearling is the debut of a born storyteller blessed with a startling imagination. 
---
Short stories by Margaret Atwood? 'Nuff said.
(But I'll be nice and paste the description if you need a bit more.)
A recently widowed fantasy writer is guided through a stormy winter evening by the voice of her late husband in "Alphinland," the first of three loosely linked stories about the romantic geometries of a group of writers and artists. In "The Freeze-Dried Bridegroom," a man who bids on an auctioned storage space has a surprise. In "Lusus Naturae," a woman born with a genetic abnormality is mistaken for a vampire. In "Torching the Dusties," an elderly lady with Charles Bonnet syndrome comes to terms with the little people she keeps seeing, while a newly formed populist group gathers to burn down her retirement residence. And in "Stone Mattress," a long-ago crime is avenged in the Arctic via a 1.9 billion-year-old stromatolite. In Stone Mattress: Nine Tales
, Margaret Atwood is at the top of her darkly humorous and seriously playful game.
---
I heard about In the Kingdom of Ice
 on NPR, and thought it sounded like such a gripping read.
In the late nineteenth century, people were obsessed by one of the last unmapped areas of the globe: the North Pole. No one knew what existed beyond the fortress of ice rimming the northern oceans, although theories abounded. National glory would fall to whoever could plant his flag upon its shores.
James Gordon Bennett, the eccentric and stupendously wealthy owner of The New York Herald, funded an official U.S. naval expedition to reach the Pole, choosing as its captain George Washington De Long, who had gained fame for a rescue operation off the coast of Greenland. De Long led a team of 32 men deep into uncharted Arctic waters, carrying the aspirations of a young country burning to become a world power. On July 8, 1879, the USS Jeannette set sail from San Francisco to cheering crowds in the grip of "Arctic Fever."
The ship sailed into uncharted seas, but soon was trapped in pack ice. Two years into the harrowing voyage, the hull was breached. Amid the rush of water and the shrieks of breaking wooden boards, the crew abandoned the ship. Less than an hour later, the Jeannette sank to the bottom,and the men found themselves marooned a thousand miles north of Siberia with only the barest supplies. Thus began their long march across the endless ice—a frozen hell in the most lonesome corner of the world. Facing everything from snow blindness and polar bears to ferocious storms and frosty labyrinths, the expedition battled madness and starvation as they desperately strove for survival.

---
May I read all of these before they are due!